Fact sheet by SRI OM CARE – SRI OM FOUNDATION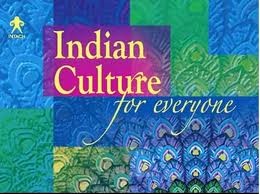 INDIAN CULTURE IN NORMAL LIFE STYLE
"Unity in diversity" – these are not just words, but something that are highly applicable to a country like India that is incredibly rich in culture and heritage: everything, from the culture and values to customs, rituals and traditions, is 'special' in this 'Land of Gods'.
Ways of Greeting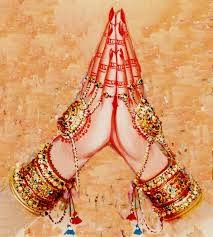 India is a land with varied greeting customs. Different religions here have different ways to express their greetings to others. For instance, in major Hindu families "Namaste" is the most common way of greeting the outsiders and elders. Both palms placed together and raised below the face not only show the respect for others but also makes the greeter feel the affection in return.
Similarly, Muslims greet by saying "Adab", which involves raising of right hand towards the face in such a manner that the palm is inwards and is in front of the eyes with the finger tips almost touching the forehead. It is for sure that no 'hello' or 'hi' can create that magic.
Indian Marriages
In India, marriage is still taken as an institution where not two people but two families get united. So, it always calls for boisterous celebrations full of music and dance. Within India, every caste and community has its own way of performing the rituals of marriage. Every state has its own special way of celebrating the marriage ceremony.
Indian Dresses
Beauty of Indian woman lies in the clothes she wears. Very traditional and ethnic yet contemporary Indian saris are famous worldwide. It is worn with a blouse that covers the upper part of the body. In rural parts, an outfit called ghagara-choli is very much popular. Choli is like a short blouse that covers the upper part of the body and ghagara is like a long skirt.
In order to have a graceful and complete look, women folk carry a duppatta that is a soft and delicate material of reasonable length thrown over the shoulder.Though with slight variations, salwar kameez is a dress that is famous in every part of India. This attire contains two pieces – kameez, which is like a long top covering upper part of the body, and salwar is like trousers. Like ghagara choli, salwar kameez is also complemented by a dupatta.
For men, there is no dearth of variety. From dhoti kurta to shirt pants, an Indian man prefers everything that fits well and looks good. But, traditionally you can see north Indians wearing kurta pajama, dhoti kurta or sherwani on formal celebrations whereas south Indian men prefer lungi with shirt.
Jewellery
Wearing jewellery has a long tradition in India. The unique designs, artistic looks and creativeness of Indian jewellery make it represent the culture and tradition of India. Jewellery is an important accessory for every Indian woman. From earrings, nose-rings, armlets, necklaces to anklets and bracelets, Indian Jewellery gives a woman everything that she needs to enhance her beauty. Some form of Jewellery such as mangalsutra, nose and toe rings are associated typically with married women in India, who get jewellery as 'stridhan' on their marriage.
In Indian marriages, especially in the north, a special night is celebrated before the day of marriage in which mehndi or henna-a kind of paste-is designed on the palms of bridegroom and is followed by some colourful dance and music. It is also designed on the palms of women on some special occasions like their engagement and marriage.
India-Religiously Yours!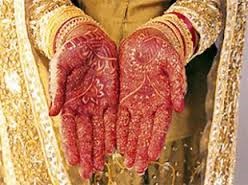 Hindu, Muslim, Sikh, Christian, Buddhist, Jain or Zoroastrian; one can find people of all religions here in India.
In spite of presence of so much diversity in practice of religion, people still stay united here. It is just the Indian values that bind people together.
Worshipping Nature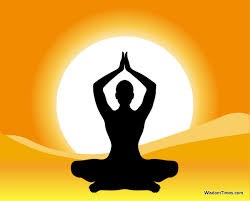 Normally, a day in India starts with Surya Namaskar. In this people offer water to the sun and chant mantras and prayers. Indians worship nature and this is unique about its culture. In Hindu religion, trees and animals are worshipped like Gods. People believe in God and keep fast ('vrata') on many festivals
Everything is Artistic here!
The great variety in performing and visual arts could not be found anywhere else in the world except for India. Indian art can be categorised into two main forms- performing arts and visual arts.
Dance, drama, theatre or music, every art is unique in itself. In India, religions, mythology and classical literature form the basis of most of the performing arts: Indian classical dances like Bharatnatyam, Kathakali, Kathak, Manipuri, Odissi and Kuchipudi mainly follow the codes of natya shastra, mythology and classical literature and epics like Ramayana and Mahabharta.
Another kind of performing art is theatre. For Indians, music is to soul what food is to body. Films are another kind of performing arts for which India is quite popular in the world. Beauty lies in the eyes of beholder. But, if you look at the sculptures and paintings in India, you cannot live without saying that the beauty lies in the hands of Indian artists.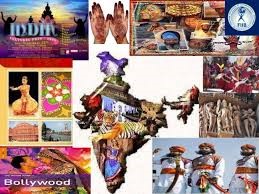 Fairs and Festivals
The 'Land of Gods' never needs a particular reason to celebrate. Celebration is a fundamental part of every Indian's life. From January to December, every month comes with a particular fair or festival. Makar Sankranti, Basant Panchami, Holi, Ram Navami, Janamashtami, Diwali, Eid, Mahavir Jayanti, Buddha Purnima, Guru Purab and Christmas; the festival of every religion has a significance and it is celebrated in a boisterous way.
Here people don't need a floor to dance. Celebrations on streets during Durga Puja, Ganesh Chathurthi, Janamashtmi and Holi show the real dancing talents of Indians.
It Doesn't Have Just One-Cuisine!


A number of religions, a number of states and hence, number of cuisines. If North India has chole bhature, tandoori chicken, rajma chawal, kadhi chawal, khurma and biryani to relish,
South India is not behind in the race. From masala dosa, rava uttpam, rasam, sambar-lemon rice to toran, appam, meen;
The concept of Thali is very famous in India. A thali is served in a very traditional form and in this you can enjoy the variety in the form of combo meals available in a particular cuisine.
The variety in Indian spices like black pepper, coriander seeds , cardamom, saffron and cumin seeds not only enhance the flavour of the food but also add nutritive value to it. The Indian food is incomplete if you don't get something sweet in the end. Having a bowl full of kheer, rasmalai, gulabjamun or a little mitha paan, etc. can add sweetness and freshness to your mouth.
Despite so many diversities, people in India are united and feel proud of their culture and tradition. On the world stage, either through international film festivals or through beauty pageants, India regularly displays its talent and culture. Many rulers came but none could cause any harm to its culture, rather Indians preserved the good values of their cultures. The flexibility and movement with time make Indian culture fashionable and acceptable too.