Blog post by our Day centre coordinator Ms. Sunila Das on the recent trip to Canberra with 100 Seniors
---
TRIP TO TULIP GARDEN FLORIADE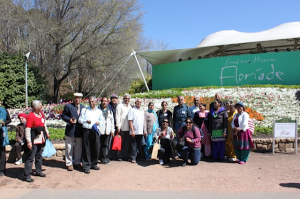 Monday 22nd September, the gr8 journey for Sriom Day Respite seniors headed for the famous Tulip Garden's spring festival in Floriade Canberra.
Chester Hill, Seven Hills, Tonggabbie and Auburn group combined in three separate buses with some volunteers.
The first stop-over for half-an-hour was at Goulburn for morning tea and fresh up. I realised the seniors were more relaxed and energised after the refreshments, so we headed for Floriade.
The 10 acre garden of magnificent tulips and other spring flowers creates a spectacular display in this area. Hundreds of blossom trees nestle between the flowers and provide a magic pathway to the waterfall.
Due to the heat not many of our seniors could move around freely, but it never stopped them posing for photos. From time to time we got into shades where some classical musical concerts were on. There were painting corners, work-shops for topiary- design and garden Gnomes. Being the school holiday there were lot more attractions for children so I believe there were extra movements around. After spending two hours, all three buses were there to pick us up for lunch to a nearby park called Weston Park.
It was very kind of Shweta and the team to engage in this project for organising very appetizing and balanced meal for 180 seniors. After photo session, at 3.30pm we said good bye to each other and left in 3 different buses. There was a stop-over for basic stretching for 30 seconds to relax the muscles.
Finally we reached the destination (Whitlam Leisure Centre) at 7.30pm where our major maxi-taxi was waiting. For some, we waited until other taxis arrived. It was a spectacular and memorable trip to Floriade.
'A BIG THANK YOU TO SRIOM CARE FOR KEEPING US UNDER THIS UMBRELLA'.
Sunila Dass